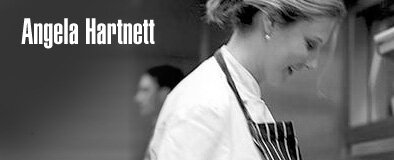 Angela Hartnett
Angela Hartnett is one of the most high-profile women in the restaurant world.
During her childhood, Angela's Italian grandmother and mother instilled in her an appreciation and love of good food, and after completing a degree in Modern History at Cambridge Polytechnic she secured her first job in Barbados at the Sandy Lane hotel.
On returning to the UK, Angela joined the young team at Aubergine, cooking under Gordon Ramsay. Working alongside a predominantly male brigade, who predicted she would last no more than a week, Angela soon proved her worth during a grueling year and saw the restaurant achieve its first Michelin star.
Six months followed in the kitchens of Zafferano before moving to where she worked under the watchful eye of Marcus Wareing, climbing the ranks to become sous-chef before moving with Marcus to Pétrus. Within seven months of it opening she had become head chef and helped the restaurant achieve a Michelin star. After launching Amaryllis in Scotland in April 2001, Angela turned her attention to the launch of Gordon Ramsay's Verre in Dubai.
In 2002 she returned to Britain to open MENU and The Grill Room at The Connaught , where she combines a modern European menu with an Italian influence, while continuing the classicism long enjoyed by Connaught diners.
In 2003 she won the BMW Best New Restaurant award and in 2004 she won her first Michelin star.
In May 2004 Angela won a legion of new fans appearing alongside her mentor Gordon Ramsay in ITV's highly successful series Hell's Kitchen. Further television appearances include a one hour programme on Tonight with Trevor McDonald advising children with poor diets on the benefits of healthy eating, presenting a Christmas series with GMTV and competing for Wales in the competition for BBC Two in 2006. Angela opened a new restaurant in Boca Raton, Florida, late in 2006.
In January 2007, Angela was awarded an MBE for services to the industry. Her first book, (ISBN: ), is available to buy now.
Try out a selection of food recipes from Angela Hartnett on the BBC website.
A great recipe: Angela Hartnett's sweet and sour pork ribs with lime and chilli.
Visit Angela Hartnett's restaurant Murano.
Angela Hartnett shares her knowledge and personal favourite dishes at The School of Hartnett.